ProECU Nissan VR30DD Twin Turbo
£800.00
EcuTek proudly announce
ProECU Nissan VR30DD Twin Turbo
EcuTek are proud to announce support for the new Infiniti VR30DD Twin Turbo engine.
This stunning new V6 engine is currently found in the latest Infiniti Q50 and V60 models. There are 300bhp and 400bhp models available, producing a modest 295lbs.ft (390NM) and 350 lbs.ft (465NM) respectively – leaving plenty of room for improvement!
The new 3.0ltr twin turbo gasoline engine offers the very latest in engine design and technology running direct injection, charge coolers, electronic wastegate actuators with turbine speed sensors, it also features Nissan's latest Continuously Variable Valve Timing Control System (CVVTCS).
The most significant part of the all-new VR-series engine is its two turbochargers. While the recent use of turbochargers has grown exponentially as automakers attempt to extract high horsepower from low displacement engines, the exhaust-driven turbines that compress the air going into the intake are not a new technology ― the patent for the world's first turbocharger was applied for in 1896, well over a century ago. Early turbochargers needed constant attention, yet recent improvements in manufacturing, metallurgy, and lubrication have made turbochargers maintenance-free and reliable.
Infiniti puts two turbochargers on its new V6, with each feeding a bank of three cylinders. The turbines utilize a computer-designed blade profile that optimizes immediate response and smoothness ― the downfall to most turbochargers is their inability to spin quickly, which is why enthusiast coined the term "turbo lag."
The 3.0-liter will be offered with two different power outputs, which is becoming a common trait now that automakers can easily tweak horsepower on turbocharged engines. Standard models develop 300 horsepower at 6400 rpm and 295 pound-feet of torque at 1600-5200 rpm. A high-output version delivers 400 horsepower at 6400 rpm and 350 pound-feet of torque at 1600-5200 rpm. Both engines are virtually identical, but there are some changes that were required to adapt each to its specific role.
Standard 300-horspower engines have a single water pump, which is characteristic of most combustion engines. However, the variants with 400 horsepower use two water pumps to allow a more precise management of engine heat while operating at higher loads. Furthermore, the high-output engines are fitted with an optical turbo speed sensor that allows its turbines to spin faster ― up to a blistering 240,000 rpm for brief periods ― one reason why it can develop a 30% power boost over its sibling.
Lastly, engineers fitted the engine with an electronic wastegate actuator. This device manages the gases that are exiting the turbocharger, permitting more precise control of the turbine's speed, thereby keeping it spinning as much as possible to maximize performance.
Overall, the new twin-turbocharged 3.0-liter V6 engine weighs 486.3 pounds, which is just 17.7 pounds more than the engine it is replacing (the V6 core weighs far less than its predecessor) ― an insignificant increase when one considers the greater horsepower, improved efficiency, and the adaptability of the new engine in a variety of Infiniti's models.
Custom Tuning
Covering the powerful ignition, fueling and cam timing control logic
Optmised Boost Pressure – 18PSI+
Optmised Ignition Timing / Electronic Intake Camshaft control
Optmised VVT Cam Timing
Optmised Throttle Mapping
Optmised Direct Injection Pump Pressure
Optmised Transmission Shift control
Optmised Torque management
Optmised Fuel set up
Speed Limiter removal
Log File Analysis
Create and view log files as data values, time graphs or 2D graphs
Read and Clear DTCs
On the many ECU modules fitted to the vehicle
EcuTek Update
For ongoing downloads of updates and new features as they are released
ProECU Programming Kit Support
For worldwide E-tuning
High-Speed Data-Logging
Log up to 100 factory diagnostic parameters up to 70Hz
High-Speed Programming
Program the Engine ECU in less than 40 seconds
ECU Backup and Recovery
Read the ECU before you program and rest assured you can recover the ECU should a problem occur during programming
Download the free ECU Connect app and get connected to your Nissan VR30DD Twin Turbo using your mobile device and the ECU Connect bluetooth vehicle interface. iOS and Android™ versions now available.
Stock performance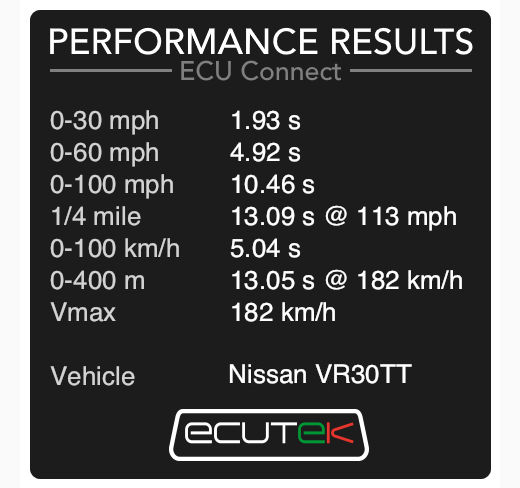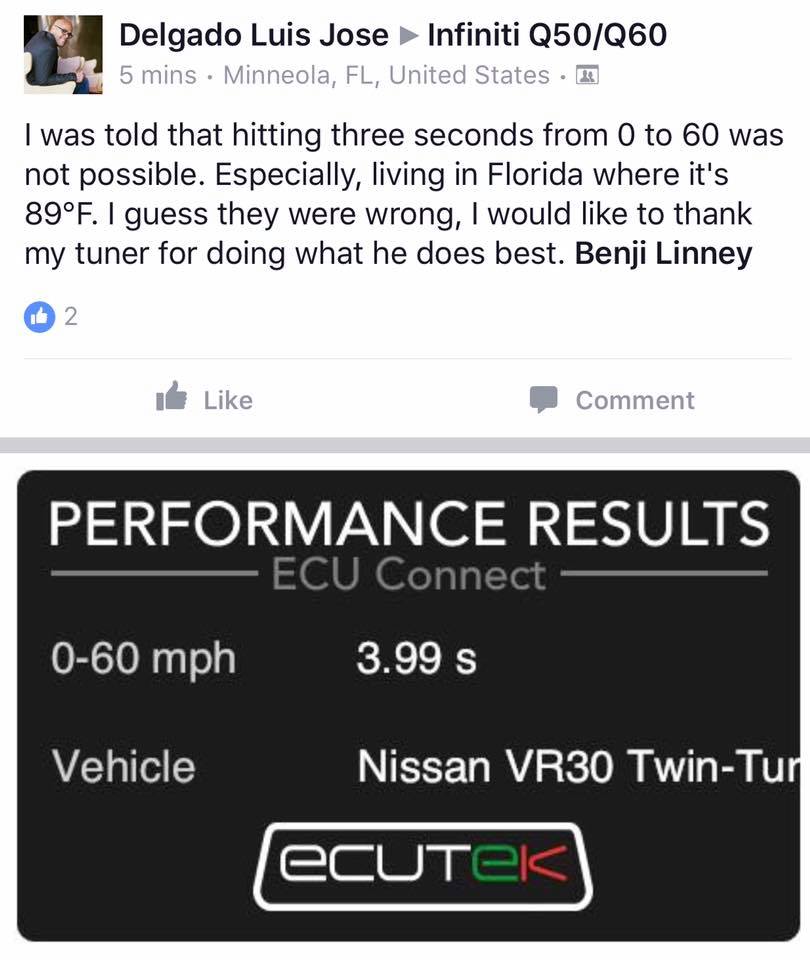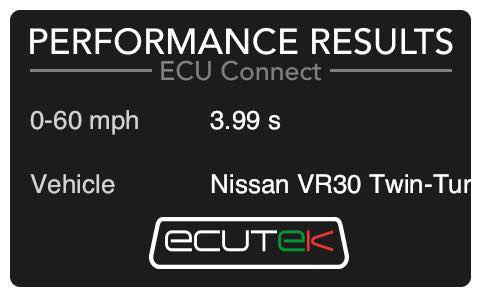 Current (Aug 2017) quickest/fastest VR30DDTT in 1/4 mile 11.8@120mph tuned by Linney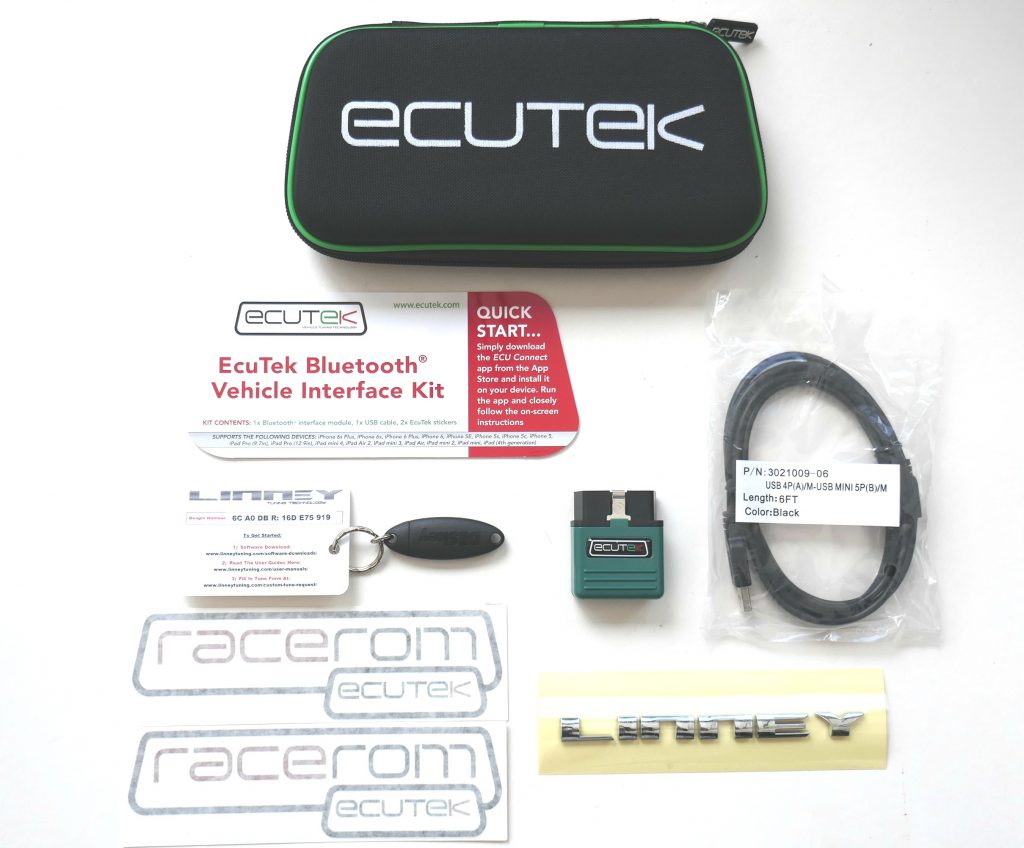 Linney EcuTek Kit Includes 
EcuTek ProECU Kit
EcuTek Programming License x 1
Custom Calibration Tune
Ecutek Bluetooth kit is also available for additional $350