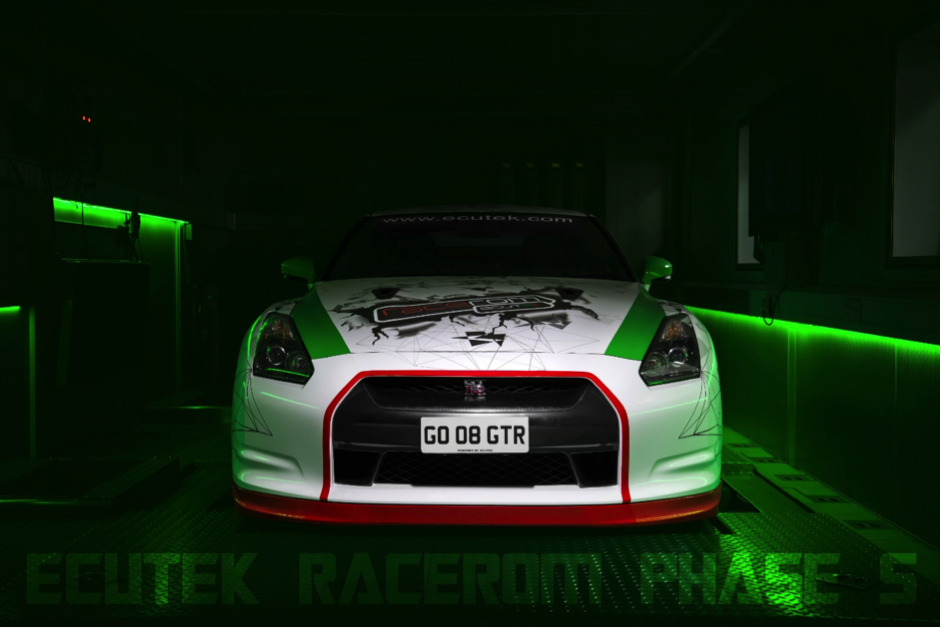 What is Phase 5? And how will it affect you?
2015 see's what I believe will be the final phase, the evolution of RaceROM for the GT-R after 7 years in the making with GT-R industry first innovative development from the very best talent in the world.
Phil Skuse aka Mr RaceROM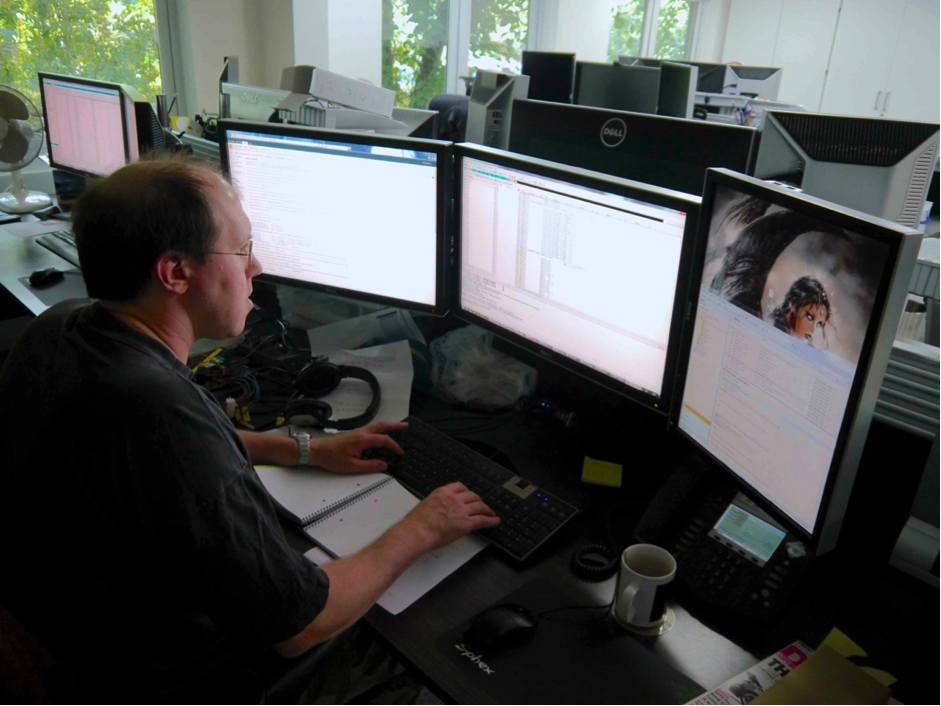 Phase 5 development headed up by Paul Blamire with his 10 years + power gain ecu experience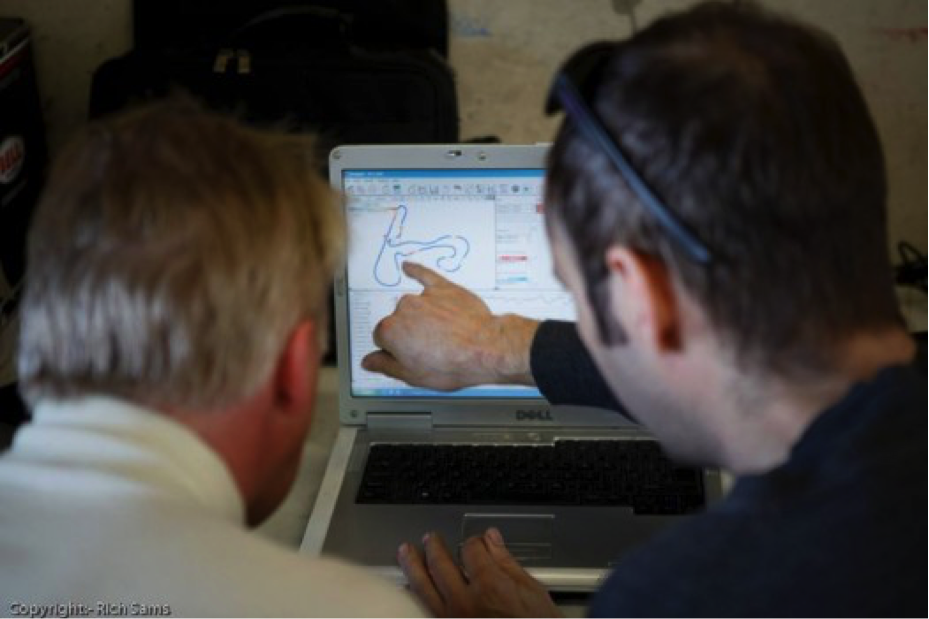 Latest Phase 5 update includes a number of new features including:
FastFlash (block programming) for ECM and TCM
Dedicated boost control strategy
Dedicated Flex fuel strategy
12 Injector support
Variable cylinder cut for use in launch control and custom maps
Direct wheelspin measurement with configurable F/R speed options
Further updates have been made to existing features and maps including:
Cranking Fuel maps
Transient fuel maps
Idle Ignition timing maps
Per cylinder ignition maps
Per gear ignition compensation maps
Streamlined datalogging with increased flexibility and more values
Simplified valet mode
Custom map notes
Integral function with user configurable starting value
Additional voltage inputs for use in custom maps
Additional inputs and outputs for custom maps
Faster Flashing for ECU and TCM
Improved Custom Maps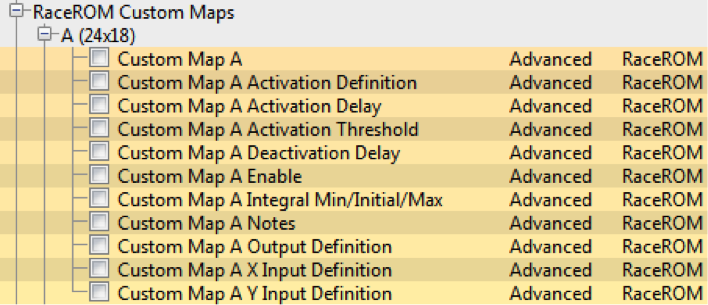 We have improved our unique and innovative Custom Maps feature to enable even more tuning possibilities. With the addition of our dedicated boost control and FlexFuel strategies, all 16 custom maps are now available for the tuners to further exploit the power of RaceROM.
Additional inputs and outputs, combined with expanded possibilities for manipulating the values, allow for complex control strategies to be created from something as simple as a fuel pressure fail safe to a slip target based multi-layered traction control system.
Enhancements include:
On/Off and PWM outputs for controlling external hardware such as nitrous solenoids
More voltage inputs for additional sensors such as fuel pressure or engine trim switches
Averaged wheel speed inputs, wheel spin measurements, randomised cylinder fuel cut, throttle control, all ideal for building custom traction control features
Primary fuel pump duty cycle control and secondary on/off control to allow full control over larger fuel pumps such as ASNU's Battleship system
Notes field, so each Custom Map can be described.
New Boost control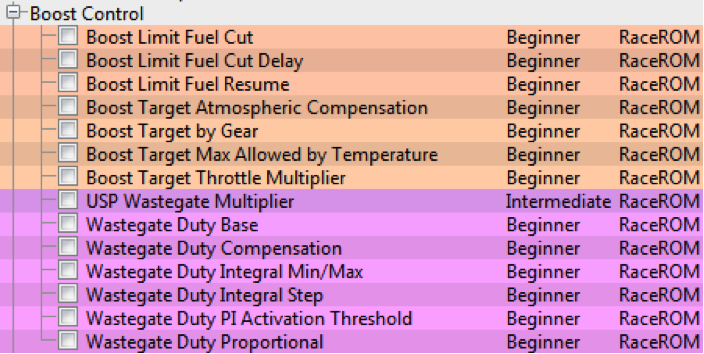 The stock GT-R boost control is difficult to understand and time consuming to tune, so we created more familiar control tools in Phase 4. For Phase 5 EcuTek have added a new boost control strategy written from the ground up to make it effective but simple to tune, no longer relying on Custom Maps.
This gives you a number of benefits:
Closed loop boost control with proportional and integral feedback
Integration with our RaceROM boost controller
Easy to understand. Simple to set up whatever your turbo installation
Altitude correction
Fail safe temperature limit which lowers the boost target
Linked to our FlexFuel strategy with a dedicated ethanol boost target
Boost target is gear dependent – this means you can set your boost target to the limit of traction or mechanicals
A corrected Nissan boost display to read true gauge pressure even at altitude.
New FlexFuel Strategy

Now hard coded into the software, there is no need to use Custom Maps to develop your FlexFuel calibration. With the addition of an Ethanol content sensor utilizing a 0-5v output, it's now easier than ever for tuners using Ethanol for the first time to create a quality FlexFuel tune without an in depth understanding of RaceROM Custom Maps.
It uses 3D maps to define Ethanol ignition timing, AFR target and boost target with 2D blend maps to determine how they are applied with varying Ethanol content. Overall fuel flow and cranking fuel adjustments are made separately.
This gives you comprehensive control of fuel, ignition and boost for varying Ethanol content levels delivering a true FlexFuel capability from the stock ECU.
Simplified RaceROM Valet Mode
Developed for 370Z and very well received, this simplified Valet Mode does exactly that. Makes it easy to set Valet Mode using the same method employed for map switching.
Valet Mode allows the driver to lock the car into a lower performance mode when lending it to a less experienced driver, or as a theft deterrent that kicks in when the car is at a safe distance. Valet mode has been simplified in line with the strategy used on the 370z, as it was frequently too complicated to activate and deactivate.
Method of Operation Valet mode is operated using the cruise control switches in the same way as map switching. Instead of selecting map switch mode 1,2,3 or 4, select mode 7. The map switch mode does not change.
Traction control

Traction Control can play a vital role in the handling and dynamics of your GT-R. The OEM Nissan system is simply not suitable for higher than 600hp power and high level of wheel slip, it can be too intrusive harsh closing throttles or throwing an awd clutch overheat limp. Running in VDC-R mode can be more effective with stability control but can still suffer from the delayed response and throttles closing at the worst moments, sometimes dangerously so if in an overtaking situation. The driver is then faced with a 3rd option of turning the VDC off raising further the threshold for limp/throttle close but at the expense/risk of excessive wheel slip in many cases very high wheel slip causing tire wear, damage to drivetrain/FWD clutches.
In 2013 with RaceROM Phase 3, EcuTek introduced custom maps and the ability to calculate wheel slip front and rear left/right with the tuner able to create their own torque reduction system based on ignition timing and boost reduction. Designed to work with the oem Nissan control system. This instantly proved successful in lowering 0-60 times, ¼ mile and on track/wet to help reduce wheel slip induced limp modes.
The release of Phase 4 in end 2013/ early 2014 then saw custom maps progress with the introduction of addition custom map inputs such as steering angle, 4WD torque split, and longitudinal/rotational/lateral G force for the tuner to set up more sophisticated traction control strategies. Developed over many months by ourselves and tested and refined further with the help of our friends & clients a selection of GT-R set up from 600HP FBO street spec all the way to 1200HP track cars at the Nurburgring, Millbrook, Silverstone, airfields and other tracks around the world.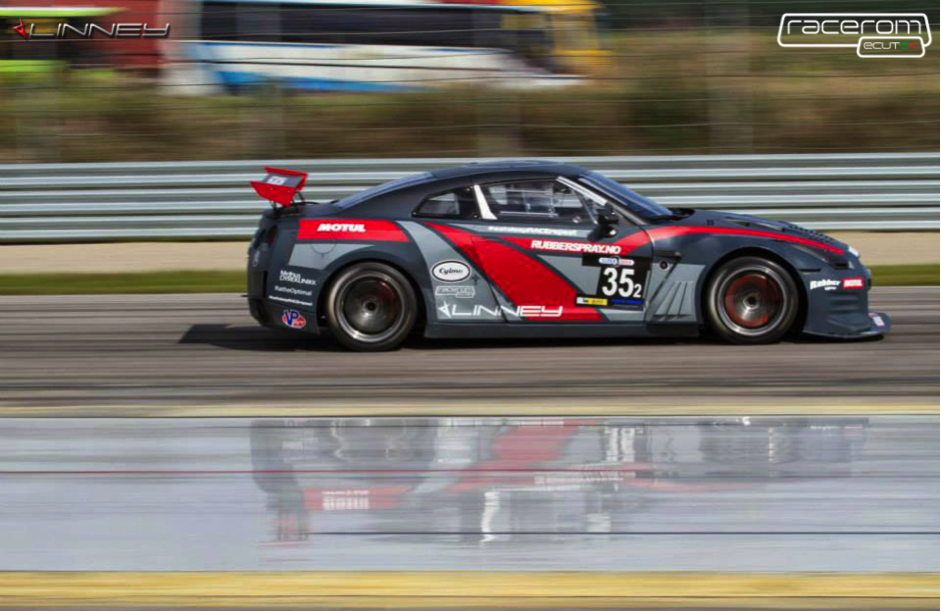 2015- Phase 5 Traction control
Improved wheel speed calculation –
Wheel speed set up- The wheel speed differential traction control tuners choice of:
Average Left and right wheel speeds front/rear. Maximum of left and right wheel speeds front/rear, Minimum of Left and right wheel speeds front/rear, actual left / right speed front/rear. This can then be used as a calculation strategy using vehicle speed, steering angle, lateral G, torque split, vdc torque limit request and more…. to control the maximum amount of slip via either a cylinder deactivation/fuel cut, throttle angle adjustment, boost, torque limit, ignition retard, or a multi-layer combination to reduce torque and get back into traction. Our testing has suggested that ignition retard, with later onset fuel cut and throttle control can best help to reduce wheel slip. Retarding the ignition will give smoother torque reduction than cuts, but can cause excessive exhaust temperatures
The allowed slip percent can be adjusted to allow maximum acceleration from a standing start, as well as dialling in a maximum slip percentage based upon any conditions.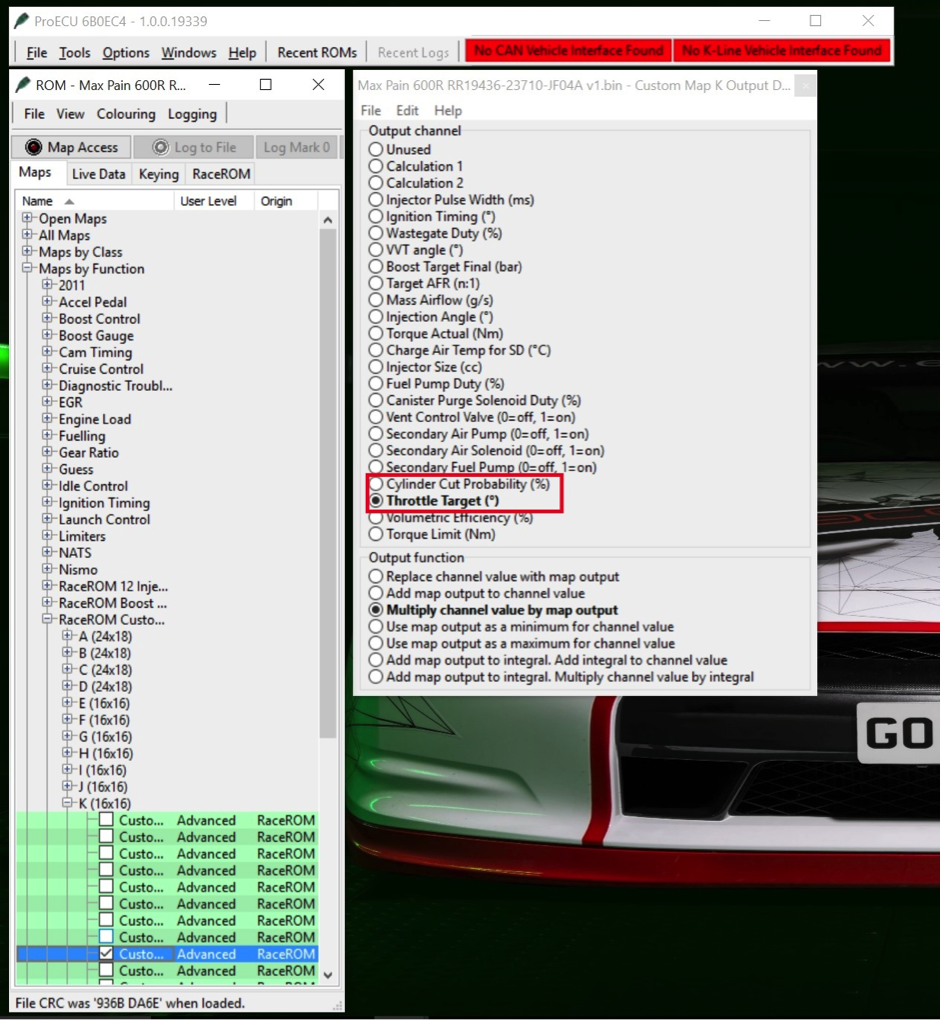 Many if not most of the top WRC teams only use fuel cut for torque reductions, usually on gear shift.
Fuel cut does not make the engine run lean. Lambda will show lean because the engine is pumping air, but the fuel is cut from the cylinder totally therefore the cylinder is with 0 fuel, so there cannot be any combustion. Uses a pseudo randomised cut of fuel which can be used for torque reduction in TC, ALS control with a jacked open throttle and many more applications.
Ignition cut can be more risky with high engine temps, broken manifolds, overheated exhaust valves, high valve seat wear, oil contamination, high oil temps, high piston temps, and high coolant temps etc can become uncontrollable, where as fuel cut gets to a stable constant level of control.
RaceROM will monitor front and rear wheel speeds and can adjust boost, timing and fuel in real time. Important when wheel spin gets beyond certain parameters. This becomes very important on drag strip / circuit where a torque-based strategy is useful to find traction and keeps speeds going upward where the conditions vary. Note that our traction control strategy is a driver aid / layer of support and not a replacement for driver skill
Some potential of the TC maps:
Low speed control & higher speed control.
TC slip target for gear position
Allowing user slip target adjustment via cruise control or additional switch
How aggressive the TC is versus RPM.
How aggressive TC is versus throttle.
How aggressive TC is versus Torque split %.
How aggressive TC is versus VDC Torque limit request
How aggressive TC is versus steering position.
How aggressive TC is versus an accelerator.
Control how quickly the power is reinstated once the slip falls within the target
Cylinder cut versus require torque reduction.
Ignition retard versus required torque reduction.
Lambda target reduction versus torque reduction.
Torque reduction method – fuel cut, ign timing, torque limit, boost or throttle angle.
Driver adjustable traction control via cruise control button or 12-cal switch
For those to like to keep boost adjust able via the cruise control switch and would like adjustable traction control via a separate switch we can supply a nice 12 position calibration switch which can fit neat & tidy in cabin.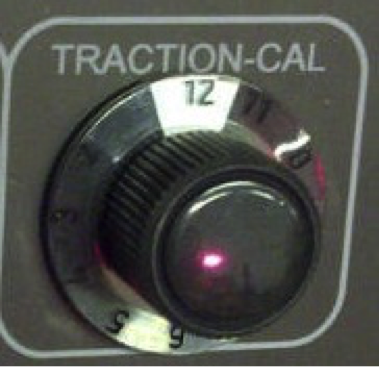 Engine Control and safety trips
If the custom map input fall outside of our parameters thresholds, the RaceROM ECU will apply a correction or significantly reduce performance to protect the engine. As well as bringing on the engine warning light to warn the driver.
We now have addition inputs for even more control and safety.
12 Injector supported

We all know the deal by now that when it comes to injectors there is not a big selection. On ethanol especially you have no choice but to go big depending on power 1650cc, 1750cc or 2000cc needing to run low pulse width on idle, despite what injector manufactures say they don't quite run like 'oem' with a nice 14.7 stoich.
Ecutek have a simple but effective 12 injector strategy that has been implemented to allow 12 injectors to be run on the GTR using additional hardware. Due to the limited spare outputs and the difficult of fundamentally changing the low level scheduling of outputs, 12 injector support is achieved by switching a secondary bank of injectors on at low to moderate load while scaling the injector constant during a "ramp in" period. The Secondary air solenoid is the only output currently available to use with this feature.
With 12 injector hardware increasingly available off the shelf and power levels only ever going up, balancing fuel delivery with engine running quality becomes ever more important. Until now the choice has been to use expensive aftermarket ECU systems or very large injectors that can lead to poor inconsistent running or severely limit the choice of race gas for high boost applications.
Using a 12 injector inlet manifold, secondary injector wiring harness and secondary injector driver module, a secondary bank of injectors can be switched in by a re-purposed secondary air solenoid output at low to medium load while injector opening times are recalculated using a secondary injector scaling.
Using this feature will enable you to obtain a smooth idle while delivering the volume of fuel you need under load, particularly on FlexFuel equipped cars due to the increased fuel flow requirements of ethanol. Now you can use the standard ECU to deliver the perfect combination of monster track car and daily driver.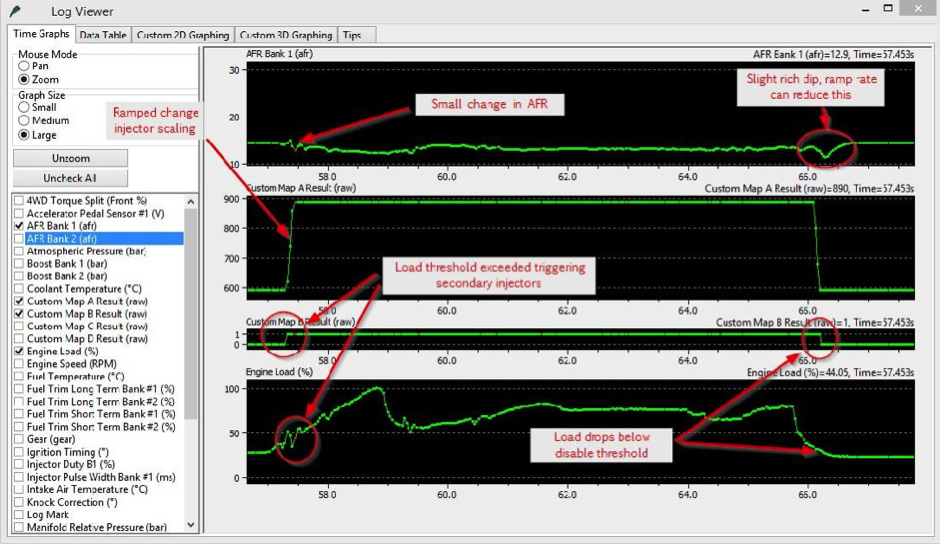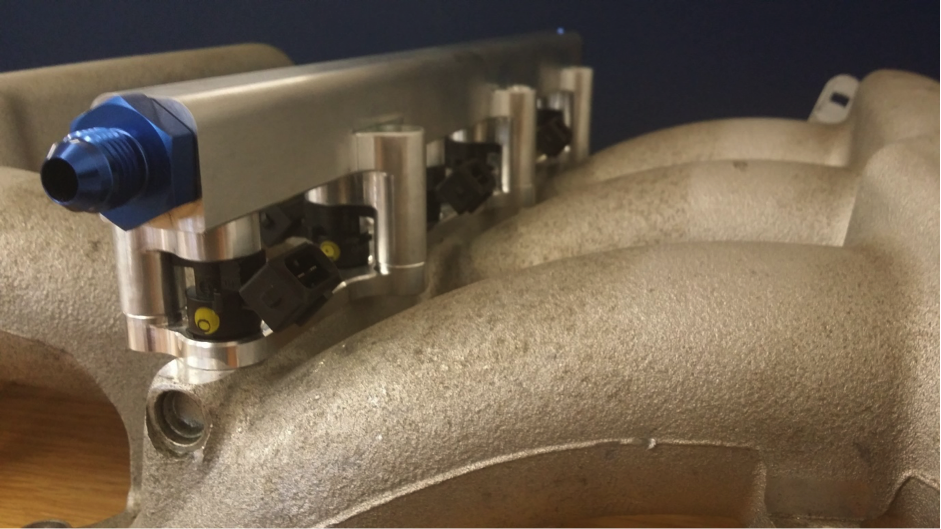 Transmission control
A number of new tcm tables have been exposed giving the tuner even more control of the GT-R DCT.
More Logging Parameters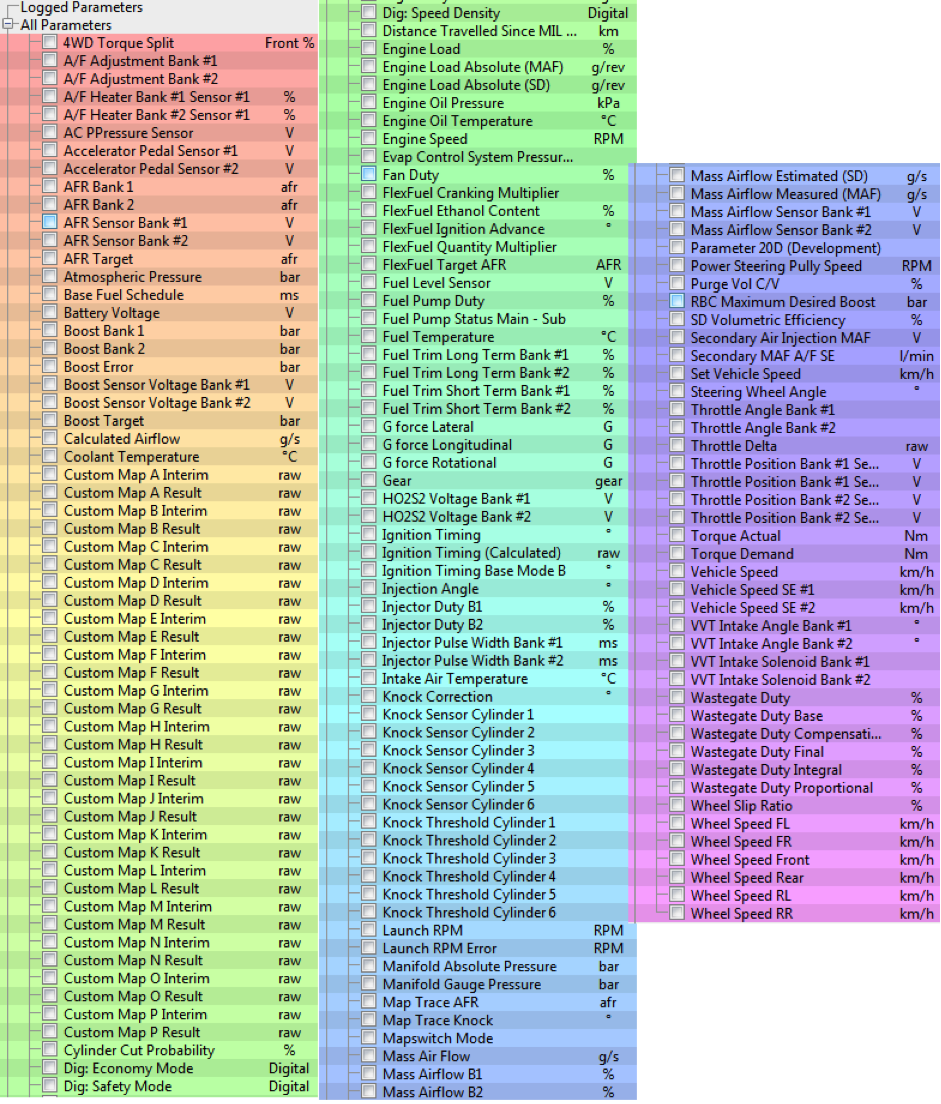 We have further enhanced our integrated logging function by adding additional parameters such as:
Wheel slip calculated from configurable front and rear wheel speeds for each axle, ideal for custom traction control
Manifold gauge pressure, absolute pressure and a full range of boost and wastgate duty parameters to support our new boost control
We have optimised the retrieval of live data from the ECU to increase the number of different parameters that can be logged at a time beyond the limits of the stock ECU. This allows for a comprehensive selection of live data by default to cover most tuners needs.
When will Phase 5 be available and what will it cost?
The new software is available today 8th September 2015
Because the Phase 5 software is so different we will need to custom tune each GT-R from scratch, either remotely using your ProECU kit or by myself in person. We cannot do free updates on Phase 4 tunes.
Prices depend on if you need MAF or SD tune, Flex or not, 12 injector and if you have specific requirements on custom traction and safety trips.
Please feel free to contact us at any time with any questions.
If you wish to proceed with a custom Linney tune, please fill out our tune request form: http://www.linneytuning.com/custom-tune-request/